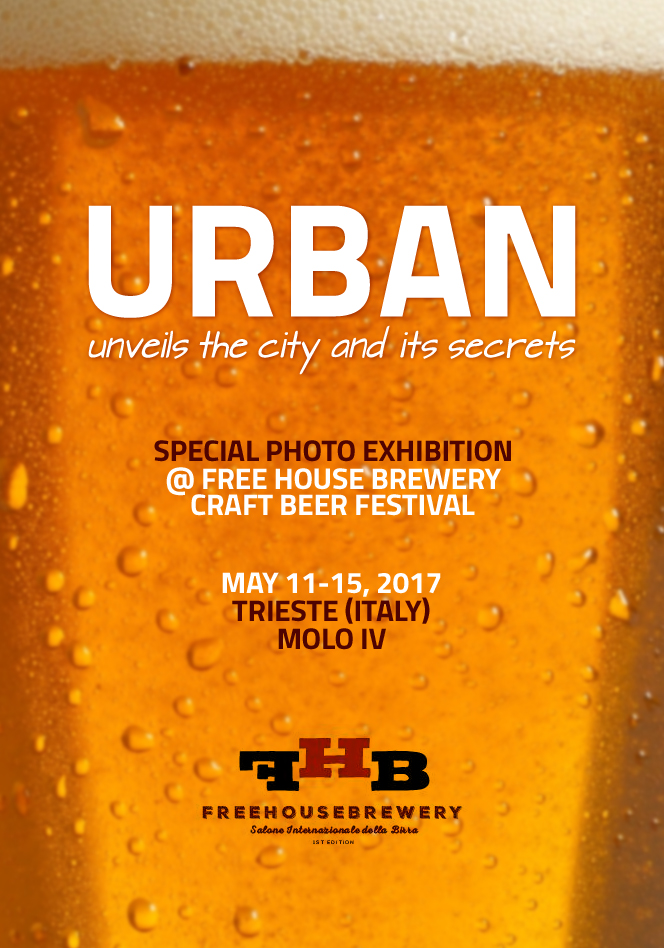 Una selezione di 40 tra le migliori foto tratte dai primi due volumi di "URBAN unveils the City and its secrets" sarà stampata in grande formato ed esposta nell'ambito di Free House Brewery, salone internazionale della birra artigianale che si terrà a Trieste dall'11 al 15 maggio 2017 presso il Molo IV. Le foto che compongono le "narrazioni urbane" dei due volumi provengono dalla classifica del concorso fotografico URBAN Photo Awards, edizioni 2015 e 2016. L'edizione 2017 è attualmente in corso e si concluderà il 31 maggio.
"URBAN unveils the City and its secrets" è una pubblicazione curata dall'associazione culturale dotART con l'obiettivo di offrire al lettore una serie di storie narrate attraverso la street photography. Foto accomunate da un elemento, a volte evidente, altre appena accennato, che tutte assieme compongono un collage organico che "svela la Città e suoi segreti".
Presso Free House Brewery, oltre al poter ammirare le foto degustando dell'ottima birra artigianale, sarà possibile acquistare i volumi.
In mostra foto di Alessandro Biggi, Alphan Yilmazmaden, Andrea Boccini, Andrea Scirè, Angiolo Manetti, Aurelien Voldoire, Diego Ravalico, Donato Aquaro, Eddie Wexler, Eric Forey, Federico Arcangeli, Filippo Boatto, Florin Flacau, Francesco Licandro, Gerardo Oliverio, Giancarlo Staubmann, Gianluca De Simone, Hans-Joerg Aleff, James Niven, Jeannette Muller, Lisa Shalom, Mariagrazia Beruffi, Martina Biccheri, Maximino Alvarez, Michael Kofteros, Michele Ginevra, Michele Rieri, Mona Blank, Nicola Tanzini, Paolo Iommelli, Philippa Stannard, Rob Krauss, Roza Vulf, Simone Capriotti, Stefano Spigolon, Tatsuo Suzuki, Tripler Roman, Tymon Markowski, Vincenzo Di Savino, Walter Rothwell.